In a way, we're a lot like a sports team. Milestone proudly boasts a roster of the best professionals – engineers, constructors, and project managers – around. But there are occasions when even the strength of our resources or the depth of our collective expertise is not enough to meet a challenge. When we identify these occasions, we turn to our bench for support, our partners.
We've sparked interests and attracted partners that have the skillset and ability to create opportunities of growth and prosperity for local business and communities. As a general contractor, we strive at engaging the support of qualified resources and specialized subcontractors and suppliers to build the best project team and provide clients across various industries creative and innovative environmental contracting services and solutions to successfully get the job done.
Milestone was formed with the objective of being the most innovative and cooperative contractor in the industry, and our success relies on our ability to pull together the most qualified project team to successfully manage our Clients environmental liabilities in the most cost effective and practical manner possible.
If your company wants to join the Milestone Environmental Contracting Inc. contracting team, get in touch with us. We're always on the lookout for great talent.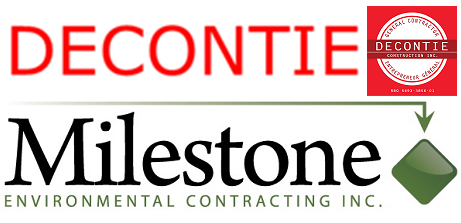 Milestone Environmental Inc. and Decontie Construction Inc. formed Decontie Milestone Inc. in 2016. This Joint Venture is a leading Indigenous environmental contracting and construction company majority owned by Decontie Construction Inc., the first Algonquin-Anishinabe-owned general contractor to be licenced by the Régis du bâtiment du Québec (RBC), and the first Indigenous Canadian Brownsfielder Award recipient.
Decontie Milestone Inc. Our shared success started with the Corbeau Hydroelectric Station Demolition and Remediation, a $4.5M demolition/decommissioning project for Hydro Québec on the Anishinabe territory of Kitigan Zibi Anishinabeg. It was a project that produced significant training and employment opportunities to recruit and retain local Algonquin workers directly from the Kitigan Zibi community and set the stage for subsequent projects including the Zibi Soil Remediation and Construction Project and the Pathway to Strengthening the Algonquin Anishinabe Workforce (PSAAW). PSAAW is a unique multi-year program that we are especially proud of as partners and represents the evolution of our partnership as we work to build bridges between industries and Indigenous communities, and to build long-term capacity in the construction industry.
Learn more about Decontie Milestone Inc. projects.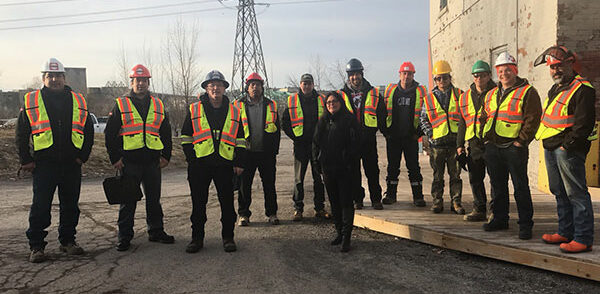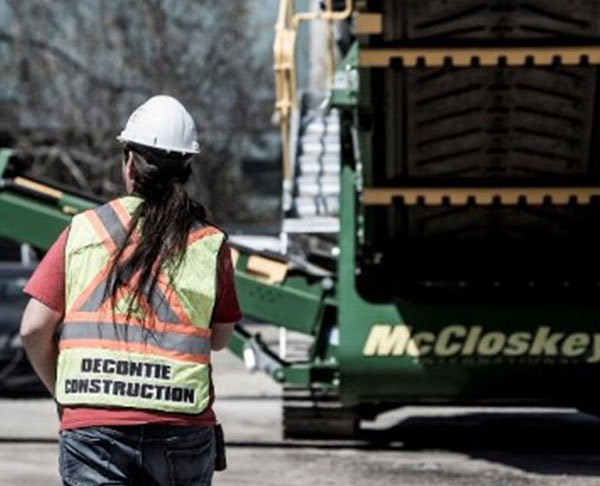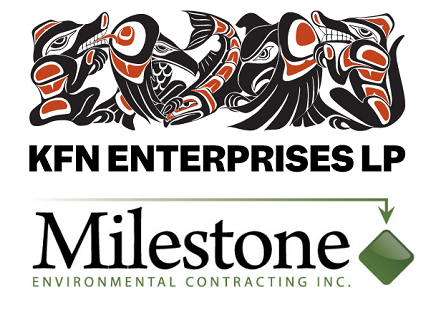 "The leadership and employees of Milestone are dedicated to the history, tradition and culture of the Kwikwetlem people and to generating meaningful and impactful opportunities to improve and create sustained socio-economic prosperity."
KFN Enterprises LP/Milestone Environmental Contracting Inc. joint venture was formed in 2016 and is majority owned by Kwikwetlem First Nation through KFN Enterprises LP. Kwikwetlem refers to a "small red salmon" or unique sockeye salmon that once ran in large numbers in Coquitlam River and Coquitlam Lake in what is now British Columbia. The Nation takes its name from this forebearer that sustained the community for thousands of years. "As we look to the future, we seek to care for our community and our traditional lands in culturally meaningful ways. Within this framework we are building strong cultural programs, community and social services, business partnerships, and extra-community networks to ensure Kwikwetlem continues as a thriving economic and cultural player in our diverse and increasingly urbanized territory." 
KFN Enterprises LP is owned 100 per cent  by the Kwikwetlem First Nation and was established to create, manage and market their business ventures while maintaining and preserving the values of the KFN. 
Through our combined capacity we have a sustained history of successfully completing projects including the remediation of a former explosives' disposal unit, various water treatment projects including well-point dewatering, and numerous commercial and industrial remediation projects.
Visit the KFN Enterprises LP website at this link.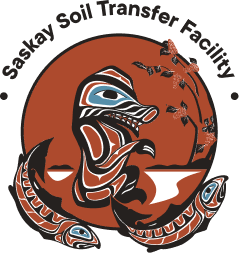 Saskay Soil Transfer Facility (SSTF) is a registered business in partnership with KFN Enterprises LP (KFNE) and Milestone Environmental Contracting Inc. (MECI). SSTF has been in operation since 2017 and operates on the IR2 Development Site located at 2650 River Rd, Port Coquitlam.
The core business of the SSTF is a soil management and transfer facility, selectively accepting waste-quality soil, non-structural soil, and debris for management and offsite disposal. All material received follows strict adherence to screening, handling, and sampling protocols prior to final disposal at appropriate permitted facilities.
Learn more about KFN Enterprises LP / Milestone Environmental Inc. projects.
Seyem'Qwantlen Construction Ltd.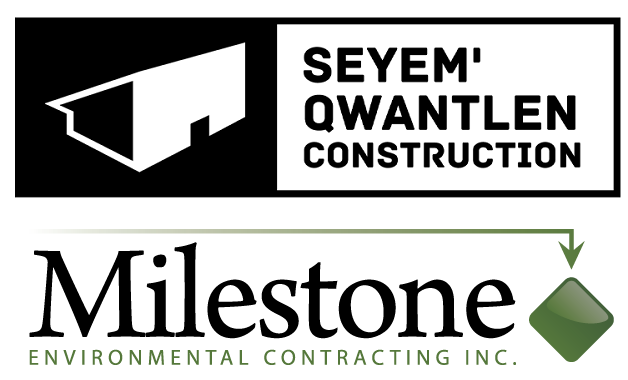 Seyem'Qwantlen Construction Ltd./Milestone Environmental Contracting Inc. Joint Venture was formed in 2017, and is majority owned by Seyem Qwantlen Construction Ltd., who is wholly owned by the Kwantlen First Nation.
Kwantlen translates to tireless runner, and following their rich legacy and traditions, the Kwantlen people continue to work tirelessly at building a strong sense of community within their traditional territory and remain committed to environmental sustainability that preserves natural resources for generations to come. https://www.kwantlenfn.ca/
Seyem is in business to economically support the programs and services of the growing community, and to be a viable contributor to the local and regional economy. Seyem, as the economic arm of Kwantlen First Nation, believes strongly in the values of partnerships, strategic vision, environmental stewardship and sustainable development opportunities that reflect and honour traditional laws and teachings that have guided the Kwantlen people for countless generations. https://www.seyem.ca/about
Aligned in our shared vision we have successfully completed various projects including the remediation of a former industrial site to the design and construction of a leachate treatment system at a former industrial and commercial landfill.
Learn more about Seyem'Qwantlen Construction Ltd./Milestone Environmental Contracting projects.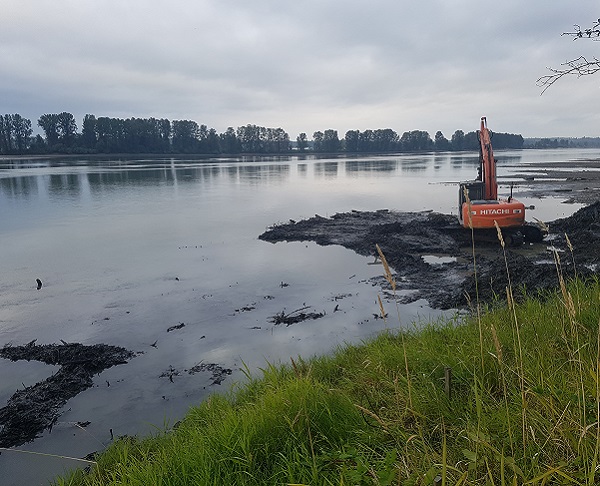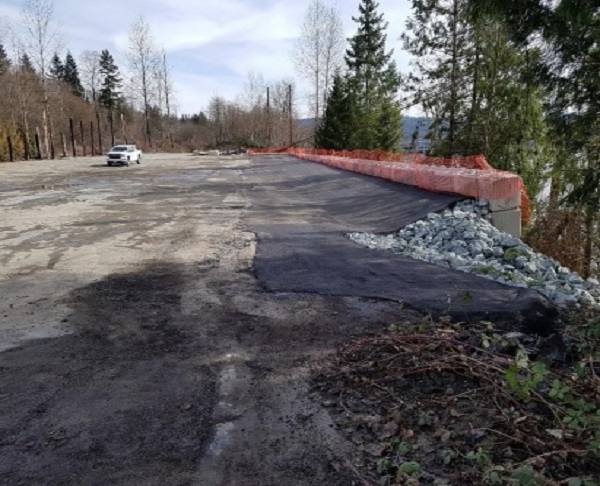 7 Cedars / Milestone Inc.
7 Cedars / Milestone Inc. joint venture was formed in 2020, and is majority owned by 7 Cedars Resource Management Ltd., a 100 per cent Indigenous business owned and operated by members of Shxwha:y Village. Shxwhá:y means "a place where they made canoes" and the present village site is at the outlet of Chilliwack River at its confluence with the Fraser River. https://skway.com/about-us/
Within the first six months of this partnership being formed, we successfully completed a road and slope stabilization project in a sensitive habitat in the Chilliwack area of B.C. It was a collaborative project that engaged other First Nation companies including K&L Contracting and Seven Generations Environmental Services, and has set the stage for an exciting and successful future working together.
Learn more about 7 Cedars Milestone Inc. JV projects links to related projects.

The K'ómoks Milestone Joint Venture was formed in 2021 and is majority owned by the K'omoks Economic Development Corporation (KEDC). KEDC represents and manages the economic interests of the K'omoks First Nation.
The K'omoks First Nation vision is "We, the K'ómoks people, envision a prosperous and healthy Nation, in which we exercise our rights and title throughout our territory, honouring our people, lands, waters, cultures and languages", with a mission that "ensures the well-being and self-sufficiency in all aspects of our Nation by asserting our rights and title while upholding our members."
We are excited to be working with KEDC and K'omoks First Nation, and as a partner how we may support and contribute to the vision and mission.
Read the latest news about our work together: Spring planting at the Kus-kus-sum habitat restoration project in Courtenay, read more 
Spring planting at the Kus-kus-sum habitat restoration project
DJRM First Nations Construction Corporation
DJRM First Nations Construction Corporation was formed in 2021 in pursuit of environmental contracting and construction opportunities in the Northwest Territories and in the North. We are excited and proud of what this majority owned Indigenous partnership represents, and of the history, diversity, experience, and expertise that each partner brings to the team.
Denesoline Corporation, one of NWT's most successful First Nation owned companies, and the recipient of Canada's most prestigious business awards for two consecutive years, the 2019 and 2020 Canada Award for Business Excellence.
J&S Construction, a 100% Métis owned company in operation since 2005 with extensive experience in trucking, logistics, and heavy equipment operations.
RTL Construction, a leading-edge contractor to government and private sectors in the North for over 53 years.
Milestone Environmental Contracting Inc, a nationally recognized leader in completing some of the most challenging remediation projects in Canada, including extensive experience executing projects in remote northern environments.
We are actively engaged in pursuing opportunities and mapping out our strategic plan as we look towards the future and our success through the diversity of our partnership. 
Read the latest news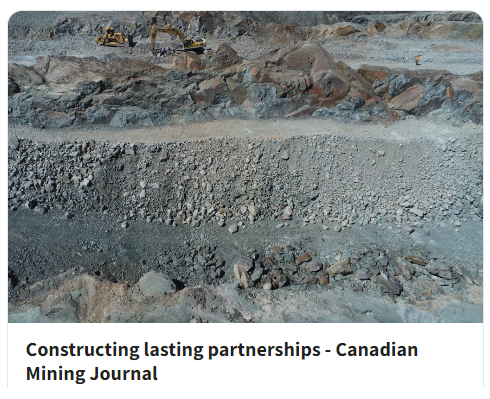 Canadian Mining Journal December 4, 2022
Article link: https://www.canadianminingjournal.com/featured-article/constructing-lasting-partnerships/
Matcon Civil Constructors

Matcon Civil Constructors are industry leaders in site preparation, land remediation, heavy road construction and underground utility installations. Their strong industry reputation for servicing their clients on time and on budget while utilizing their team's extensive technical expertise, industry knowledge and progressive environmental practices has been a direct cause of their continual growth. Through a sound business plan and careful attention to customer service, Matcon Civil continues to be a local leader in the Canadian civil construction industry.
Learn more about our projects together