Continued growth in environmental remediation and contracting services places firm in Top 200.
Ottawa, ON (Sept. 24, 2021) –  Eric Pringle, CEO of Milestone Environmental Contracting, is proud to announce on behalf of everyone at Milestone that the company has placed No. 197 on the 2021 Report on Business ranking of Canada's Top Growing Companies.  Canada's Top Growing Companies ranks Canadian companies on three-year revenue growth. Milestone earned its spot with verified three-year revenue growth of 211%.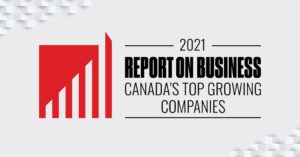 Milestone co-founders Mark Seaman and Barry Grover have focused their entrepreneurial spirit on continued business growth by directing large strategic project opportunities that can further cement Milestone as the national environmental contractor of choice. "We want to maintain our edge, our relationships, and our thirst to champion new technologies to solve our clients environmental challenges… the toughest ones" said Mark. "Being recognized as one of Canada's Top Growing Companies is a testament to that vision and the Milestone culture of teamwork and collaboration, communications and people."
Canada's Top Growing Companies ranking celebrates entrepreneurial achievement in Canada by identifying and amplifying the success of growth-minded, independent businesses in Canada. It is a voluntary program; companies had to complete an in-depth application process in order to qualify.
"Any business leader seeking inspiration should look no further than the 448 businesses on this year's Report on Business ranking of Canada's Top Growing Companies," says Phillip Crawley, Publisher and CEO of The Globe and Mail. "Their growth helps to make Canada a better place, and we are proud to bring their stories to our readers."
– # –
For more information, please contact:
Eric Pringle – CEO & Managing Partner   604-329-5554
About Milestone: Milestone Environmental Contracting Inc is a privately held Canadian contracting and project management company with offices in Ottawa, Hamilton, Port Hope and Vancouver (Langley). Milestone has extensive environmental cleanup and geotechnical contracting experience and offers safe, practical and cost-effective solutions for a wide range of complex environmental projects, including soil and groundwater remediation, lagoon and pond remediation, excavation and shoring, soil stabilization, mine reclamation and design-build remediation.
About The Globe and Mail and the Report on Business ranking of Canada's Top Growing Companies:   The full list of 2021 winners, and accompanying editorial coverage, is published in the October issue of Report on Business magazine—out now—and online.  The Globe and Mail is Canada's foremost news media company, leading the national discussion and causing policy change through brave and independent journalism since 1844. With award-winning coverage of business, politics and national affairs, The Globe and Mail newspaper reaches 6.4 million readers every week in print or digital formats, and Report on Business magazine reaches 2 million readers in print and digital every issue.