Kitigan Zibi, October 5, 2021 – An Algonquin Anishinabe company, Decontie Construction Inc., in partnership with Milestone Environmental Contracting Inc., together as Decontie Milestone Inc. has been awarded a contract from the National Capital Commission (NCC) to lead the next phase of remediation on Victoria Island, a place of great significance for the Algonquin-Anishinabe.
The remediation work, which will begin this Fall, is expected to take about six months, and create jobs for Indigenous workers. Importantly, this is the first time an Algonquin-owned company will lead a federal contract to remediate lands in the National Capital Region – at the heart of the unceded and unsurrendered Algonquin territory.
"I remember coming to this landmark place as a child for celebrations, important causes and to make our presence known and voices heard," said Wanda Thusky, Partner of Decontie Construction Inc. "To stand here today, with the NCC, celebrating the start of a clean-up project led by our Algonquin-owned company means more than I can say."
The contract was awarded to Decontie Milestone Inc. following a rigorous competitive public procurement process led by the NCC.
"The NCC is pleased that the remediation of Victoria Island contract was awarded to an Algonquin Anishinabe contractor who specializes in environmental remediation. Following the completion of the work in 2025, Victoria Island will be reopened to the public. Next steps for this important site include the development of a master plan in partnership with the Algonquin Anishinabe Nation to establish a place of special significance in the Capital for Indigenous peoples and their cultural traditions," said Tobi Nussbaum, Chief Executive Officer, National Capital Commission.
This is not the first glass ceiling that Decontie and Milestone have broken through. In 2016, the Indigenous and non-Indigenous owned companies partnered to remediate the lands at the adjacent 34-acre Zibi redevelopment project, creating jobs for Algonquin Anishinabe workers and breaking a number of barriers for Algonquin Anishinabeg on their territory. The Zibi project resulted in Decontie Construction Inc. becoming the first-ever Indigenous company to win the Brownfielder of the Year Award from the Canadian Brownfields Network.
"This is truly a symbol of what reconciliation can look like," said Barry Grover, Strategic Partnerships, Milestone Environmental Contracting Inc. "Developers and construction companies across Canada, particularly out west, are increasingly partnering with Indigenous companies. The construction industry in the National Capital Region has been slow to pick up this model, but this project proves the capacity is there among the Algonquin Nation. Industry needs to look for opportunities to hire and continue to build-up that capacity. They will be astonished by their professionalism and what they can learn from them."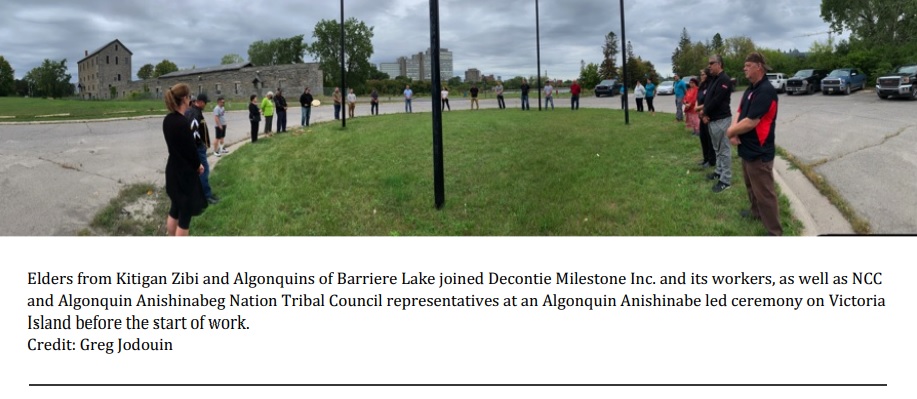 "This contract is a stepping-stone for our people, our businesses and our Nation as a whole," said Patrick Dumont Jr., who is presently the Algonquin Nation's Procurement Officer from the Algonquin Anishinabeg Nation Tribal Council. "When we heard that an Algonquin owned business (Decontie Milestone Inc.) was bidding on this contract we did everything possible to assist them. The NCC's decision to hire an Algonquin-led company to lead the clean up of these lands contaminated by hundreds of years of settler industry will open the door to more contracts on our unceded Algonquin-Anishinabe territory. The capacity is there if you look for it and if the means are made available."
Media Contacts
Sophie Boudreau (NCC Media Relations)
343-549-7203
sophie.boudreau@ncc-ccn.ca
Wanda Thusky (Decontie Construction)
819-441-6243
wanda@decontieconstruction.ca
Gavin Domitter
Indigenous Relations & Business Development Manager
604-328-5012
About Decontie Construction Inc.
Decontie Construction Inc. is licensed as a General Contractor (Level 1.3) under the Régie du bâtiment du Québec, allowing the company to construct any type of development, residential or commercial, on or off-reserve. In 2019, Decontie became the first-ever Indigenous company to win the Brownfielder of the Year Award from the Canadian Brownfields Network. It conducted the remediation work at the 34-acre master-planned Zibi community and dismantled the abandoned Corbeau Hydro Quebec electric station amongst other important projects. Its founder Andrew Decontie, a First Nation Algonquin-Anishinabe from Kitigan Zibi Anishinabeg, has worked in the construction sector for over 20 years. His passion for the construction industry, the right to self-determination, and the betterment of his People originates from a legacy of family and community members who were forced to leave Canada in the 50's, 60's and 70's to find work throughout the United States.
About Milestone Environmental Contracting Inc.
Milestone Environmental Contracting Inc is a privately held Canadian contracting and project management company with offices in Ottawa, Hamilton, Port Hope and Vancouver (Langley). Milestone has extensive environmental cleanup and geotechnical contracting experience and offers safe, practical and cost-effective solutions for a wide range of complex environmental projects, including soil and groundwater remediation, lagoon and pond remediation, excavation and shoring, soil stabilization, mine reclamation and design-build remediation. Milestone continues to hire and foster relationships with strategic partners which allow them to be early implementers of new remedial approaches. Milestone strives to be "THE Place to Work" for employees and be the "Recognized Environmental Contractor of Choice". Go ahead, give us your toughest jobs. We dare you. www.milestoneenv.ca
About the Procurement Officer at the Algonquin Anishinabeg Nation Tribal Council
The Algonquin Anishinabeg Nation Tribal Council, with the financial assistance of Indigenous Services Canada, has created the Algonquin Procurement Officer's position since approximately 2019. The Algonquin Procurement Officer's role is to assist the First Nation communities of Kebaowek, Wolf Lake, Long Point, Temiscaming, Pikgogan, Lac Simon, Kichcisakik, Barrier Lake, Kitgan Zibi Anishinabeg, Pikwakanagan and Wahgoshig. These are the official 11 Algonquin communities that exist within Quebec and Ontario. We promote the Government of Canada's Public Services Procurement Program and the  Procurement Strategy for Aboriginal Business. We assist Native and Non-Native contractors to find the capacities necessary to meet their contract obligations by ensuring Indigenous participation within all contracts signed with the federal government on the unceded and unsurrendered territory of the Algonquin Nation. We assist our First Nation communities on how to do business with the Federal Government, assist them to seek out contracts in the areas of Goods, Services and Construction. In summary we attempt to find ways to help improve the well-being and quality of life for our Algonquin Communities their members and their business.
About Victoria Island
The 5.6-hectare Victoria Island — a place of special significance to Indigenous peoples in Canada's Capital Region — is located in the Ottawa River, immediately north of Ottawa's downtown core and at the steps of Parliament Hill. The site historically supported mixed industrial, commercial and residential land uses dating back to the late 1800s. The NCC is currently in the process of cleaning up the site, which is closed until 2025 to ensure the safety and security of the general public during the cleanup project.