Port Hope, ON (October 1, 2020) – Mark Seaman, Founding Partner of Milestone was honoured to virtually participate and accept a 2019 Business Excellence Award in the Manufacturing and Skilled Trades category presented to Milestone (pictured) at the Port Hope & District Chamber of Commerce Business Excellence Awards.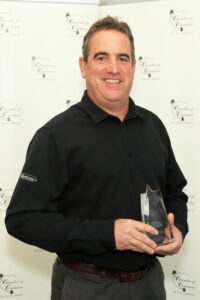 Since beginning our work with the PHAI, Milestone has been committed to ensuring the Port Hope community would benefit from the lasting positive environmental, social and economic outcomes that result, directly and indirectly, from our projects in the area.  We've always included local community leaders, quality environmental professionals, engineers and field experts in our project initiatives as their contributions play a significant role in overall project success. We have been impressed with the skilled trades talent that exists in the Port Hope area and continue to employ local residents on our teams.  Our project managers use local resources and rely heavily on the use of small and medium sized businesses for the execution of our projects in Port Hope.  In fact, we have hired or utilized forty-two companies in some capacity over the course of our project work to date.   This award is also for all of them!
Milestone is proud to have delivered on its local engagement commitments by creating business and employment opportunities in manufacturing and skilled trades that bring tangible and lasting benefits to Port Hope.  Thank you to the Port Hope & District Chamber of Commerce for recognizing an amazing team of people who have come together to tackle some of the country's toughest, oldest, dirtiest legacy sites and improve the environmental quality of the land and water of the Port Hope community.  It is why we do what we do and one of the reasons why Milestone was founded.  Thank you again!
– 30 –