Milestone is heading to the Canadian Mining Expo on June 7-8, 2023 in Timmins Ontario. We are once again excited to have a booth with RAW Group, an Anishinaabe (First Nations member) majority-owned joint venture company specializing in construction and electrical contracting.
Stop by to visit us at Arena 1, R5-02. See the bottom of this page for discount code information if you pre-register before May 26, 2023.
Click here
to learn about mining services Milestone can provide.
Highlight from 2022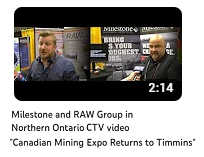 Check out this CTV News clip from last years Expo in 2022, where Milestone team member Donny Sousa and RAW Group team member John Morgan Messenger were interviewed.