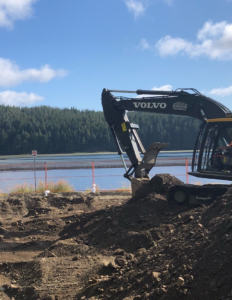 A project for two sites located on the West Coast of Vancouver Island in British Columbia marks an exciting chapter for Milestone Environmental Contracting Inc. as having worked on projects on some of the furthest points of the east and west coasts of Canada.
The Grice Bay & McLean Point Remediation project for Parks Canada has the Milestone team led by Project Manager, Josh DiRocco mobilizing to Tofino, BC to work on two locations within the Pacific Rim National Park Reserve that have been identified as having residual hydrocarbon contamination from historical activities. The work was actioned for remediation through the Federal Contaminated Sites Action Plan (FCSAP), a Government of Canada initiative to reduce environmental and human health risks from known federal contaminated sites.
"We are thrilled for the opportunity to remediate and restore these sites in such an important ecological area in BC." said Milestone CEO & Managing Partner Eric Pringle "this project is also marking a milestone for our company as we expand our portfolio of work to all coasts in Canada, an exciting achievement in our 10th year of business."
Once completed the remediation will remove legacy underground storage tanks, improve soil and groundwater, and see the restoration of the point and, importantly, the boat ramp. This is a very active and popular area within Canada's federal parks system.